Recreation
Detroit is a town that offers activities for ALL SEASONS of the year. Our largest visitor draw is in the Summer months with incredible Detroit Lake. It is regulated by the Detroit Dam (11th largest in the US, 455,000 acre feet of water) and is at full capacity from mid-April through mid-September each year. It's an excellent place for water skiing, wake-boarding, boating, sailing and sight-seeing. The natural beauty of the surrounding Cascade Mountains has attracted visitors from around the world, and features boating (Kanes and Detroit Lake Marinas), camping, recreational vehicle facilities, and cabin rentals. The Detroit area is host for thousands of hiking trails for day hikes or more adventurous back-packing.
The Fall is our Annual Cruz-In Car Show. Winter is full of activities from snow skiing (alpine and nordic), snow boarding, show-shoeing, and snowmobiling with hundreds of extraordinary trails.
Spring offers our Annual Fishing Derby that attracts families from all over the state to compete with fishing fun to win incredible prizes. it is stocked by the Oregon Dept. of Fish and Wildlife with 125,000 catchable rainbow trout, along with fingerling rainbow, Kokanee and chinook salmon.
Come visit us and see for yourself how much there is to enjoy here in the 'Heart of the Oregon Cascades'!

Boating
Tie-Up Spots: The best tie-up spots include the Breitenbush Arm near Detroit Lake Marina and Blowout located at the far southwest end of the lake. These calm coves offer shelter from the wind. Sun lovers enjoy visiting, swimming, and relaxing. For water skiing and wake-boarding, you get up early or go out late! The lake is calmest at sun up and sun down. To experience the best sailing, head towards Detroit Dam where the wind consistently fills the sails, creating a great experience! For amazing sightseeing, be sure to go visit the beautiful waterfall at Kinney Creek. It is a scenic lunch spot, but keep your eyes peeled for our family of Bald Eagles who make Detroit their home!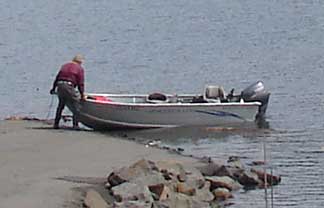 Boat Ramps:
Mongold Day Use Area: 1.5 miles west of Detroit Lake State Park on Hwy 22. It's the only public boat launch facility on the lake featuring a swimming area, grass beach, picnic facilities and restrooms. Mongold is a year-round fee area. Mongold has 58 single car parking spaces and three fully-accessible parking spaces near the swimming area, and another 25 single car parking spaces at the top of the parking lot. There are 120 vehicle/trailer parking spaces, and three that are accessible to people with disabilities. Overnight parking at Mongold is permitted only when the visitor is camping on Piety Island.
Cove Creek Campground: located approximately 5 miles east of Detroit on Hwy 22 and Forest Road 10. Forest Road 10 is also known as Blowout Road. It has one improved boat ramp.
Hoover Campground: is located approximately 5 miles east of Detroit on Hwy 22 and Forest Road 10. Forest Road 10 is also known as Blowout Road. There is one improved boat ramp.
South Shore Campground: is located off Hwy 22 on Forest Road 10 (Blowout Road). There is one unimproved boat ramp.
Seasonal Marinas/Moorage: Kane's Marina and Detroit Lake Marina provide seasonal moorage facilities when the reservoir is full. These fine businesses do not have boat ramps at their locations. Please utilize the other boat ramps in the area.
Detroit Lake Beach: located in Detroit Lake State Park . Facilities in the park include two swimming areas and picnic areas. Detroit Lake Beach is an unguarded beach – no lifeguard is on duty. Swim at your own risk. Please refer to signage on site for beach rules and regulations. Children age 12 and under must be accompanied by an adult. Swimming is not allowed outside of the beach area. No glass containers. No smoking. Pets must be on a leash.
Safety Tips: Actively supervise children in and around open bodies of water, giving them undivided attention. Appoint a designated 'water-watcher', taking turns with other adults. Keep a cell phone nearby in case of an emergency.
Info: (800) 551-6949 • Park: (503) 854-3346
Swimming
Located in the Cascade Mountains, Detroit Lake State Park is the gateway to beautiful Detroit Lake. The 400-foot-deep lake was created in 1953 when the U.S. Army Corp of Engineers completed the Detroit Dam project. The lake is over nine miles long with more than 32 miles of shore line. This is the spot for all types of water sports such as fishing, boating, swimming, water skiing, and personal watercraft.
Kayaking and Paddleboarding
If you want to go where the big boats aren't able, or want a quieter experience, consider kayaking or paddleboarding. Bring your own or rent one from the local shop. Kayaking and paddleboarding allow you to explore tiny coves, get out onto shores, and get some good exercise. Just be sure to get clear instructions to ensure your safety and quality experience.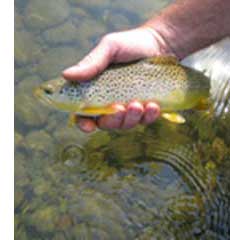 Fishing
Detroit Lake provides year-round fishing opportunities as long as you fish in still water and not in or near the rivers and streams. Available catches include rainbow trout, fingerling rainbow, kokanee and brown bullhead catfish. Anglersare regularly on the water getting their "fish on". The Detroit Lake Recreational Area Business Association (DLRABA) hosts an annual 3-day fishing derby event each May. This fabulous event brings in friends, families, serious anglers and first-timers. Prizes abound with many ways to win!
Hot Springs
Breitenbush is currently closed due to the Fire
HISTORY: Most of the structures at Breitenbush Hot Springs were part of a hot springs resort built in the late 1920's and early 1930's. The land became a favorite place for people to camp or have a simple cabin and enjoy nature and the beautiful hot waters.
Alex Beamer purchased the property in 1977 and spent several years restoring it. In 1981, the Breitenbush community started hosting guests who participated in a variety of workshops, celebrations and personal retreats. In 1985, the community purchased the land from Alex, and in 1989, a worker-owned cooperative was formed. Breitenbush is a center for learning and renewal, and will remain true to its mission to provide a "… safe and potent environment where people can renew and evolve in ways they never imagined". Breitenbush plans to re-open.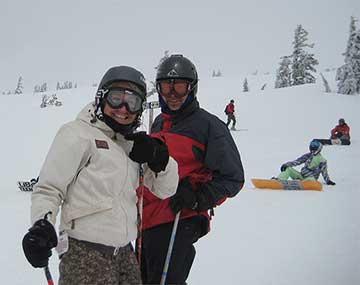 Alpine or Nordic Snow Skiing
and Snowshoeing
From scenic Detroit, snow skiing is less than an hour away at Hoodoo, with both Alpine and Nordic trails. RV camping is available in the Hoodoo parking lot, or you can come back to cozy lodging, warm food, and hot drinks in Detroit.
Other Skiing/Snowshoeing Activities
You will find that hundreds of miles of Forest Service Roads provide an opportunity for cross-country skiing and snowshoeing in the Detroit area. Many Nordic trails can also be found in the Cascade Snow Parks along Hwy 22 heading toward Sisters.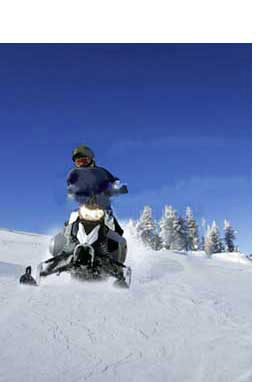 Snowmobiling
In addition to hiking and sledding, snowmobiling is one way to enjoy our area in the winter season. Nearby McCoy Creek Road has groomed snowmobiling trails and a warming hut. The Detroit Chapter of the Oregon State Snowmobile Association (OSSA) contributes to these amenities financially through member dues and volunteer time. If you are interested in this activity, please consider getting in touch with the OSSA.
For lodging, camping, recreation, and business information visit the DLRABA website.